Elders, deacons and staff

Doug was a part of the original core of leaders who planted Spencer Christian Church in 1997 and after serving in various capacities at other Kentucky churches, returned to be SCC's Lead Minister in 2010. He has been married to his beautiful wife Jill for over 30 years. They have three children- Jesse, Hannah & Bethany. Doug is also an outdoors enthusiast as well as a University of Kentucky Wildcat fan. Doug graduated from Kentucky Christian University in 1991.
Ivan and his wife Mary Ann were married in 1990 and graduated from Kentucky Christian University in 1991. They have four boys: Caleb, Joshua, Noah and Nathan. Ivan enjoys NFL Football, College Basketball, The University of Kentucky Wildcats, Rook and Butterscotch Pie. He was ordained into the Christian Ministry on October 7, 1990. He loves to see people grow in their faith to service in the Kingdom of God. After serving for many years in various realms at other Kentucky churches, Ivan joined the staff of SCC in 2011.
Andy was born and raised in west Tennessee, attending the University of Tennessee for three semesters and completing his degree in Management and Marketing at Union University in Jackson, TN. Upon graduation, Andy pursued a career in marketing for ten years.
Andy met his lovely wife Cindy at a single's ministry event at New Hope Christian Church in Bartlett, TN. Andy and Cindy were married in 2001 and are blessed with two daughters Emma and Lydia. While living and working in the Memphis area, they led a mission trip with CrossRoads Missions to Mexico. About two years after that trip Andy was led to serve in a full time capacity with CrossRoads Missions where he served for 10 years. Andy came on staff at Spencer Christian Church in 2011 and has served in a variety of roles all with the focus of helping people mature as followers of Jesus.


Since the late 1990s Mike has led ministries in Ohio and Kentucky. Mike is passionate about God's word, and loves watching people grow in their understanding of His plan for their lives. Married to the lovely and talented Sara since 2001, Mike is "better" because of her. Mike and Sara have two boys, Seth and Abel who have brought unspeakable joy to their lives, and a lot less sleep. Mike is a native of southwest Ohio who loves the outdoors, homemade Chicken and Dumplings, and autumn (not necessarily in that order). Mike also enjoys playing golf, is a fan of the Cincinnati Reds and a long suffering Cincinnati Bengals fan, as well as a life-long fan of THE Ohio State Buckeyes.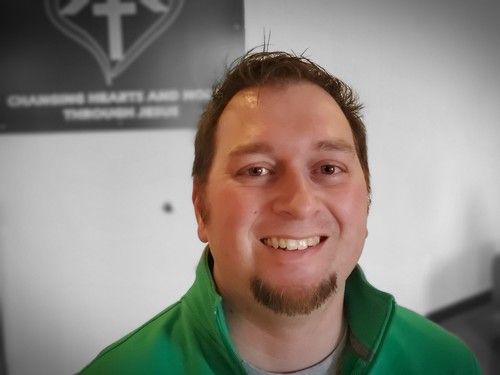 Chris is a native of Waterloo, Illinois and graduated from Saint Louis Christian College in 2011, where he met his bride & best friend Corie.. They were married in October 2011 and immediately began youth ministry as a team at Georgetown Christian Church in Georgetown Indiana where they served for 7 years. Chris completed his Masters Degree at Lincoln Christian University. They have 4 amazing boys, Easton, (twins) Jaxon & Jess and Dace. They are passionate about students loving Jesus!!! Chris loves anything St. Louis Cardinals, playing sports, watermelon and Apple Pie. His favorite thing is anything with his family(except folding laundry)
Cindy joined the SCC staff in 2010 where she has served as Children's director, developing curriculum and overseeing all the family events at SCC. She and her husband, Andy, enjoy serving on staff together. She recruits and heads up a team of gifted and excited teachers who lead children every week in learning, worship and fun. Before going into ministry, Cindy taught in the public school system. When she's not busy planning for the children of Spencer Christian Church, she is pouring into her own girls, Emma and Lydia.
John Hatter was born and raised in Bagdad, Kentucky. He is the son of Bruce and Sandy Hatter and is the youngest of two kids. John is currently enrolled at Johnson University online campus, pursuing a Bachelors in Ministry Leadership. He has been working with the youth at Spencer Christian Church since January 2017.
Children's Ministry Associate
Holly and her husband Roger have been married since 2010. They have two children, Jasmine and Jonah. Holly has many years of experience volunteering in children's ministry. Before joining the children's ministry team at Spencer Christian, Holly taught in the public school system and most recently at Spencer Christian School. She has a bachelor's in History from the University of Louisville and a Master's in Education from Grand Canyon University. In addition to her own children, Holly loves sharing the gospel with kids of all ages. She volunteers with the Fellowship of Christian Athletes where she serves the Spencer County High School Lady Bears Basketball team.
Administrative Coordinator
Gina and her husband Chris were married in September 1990. They have a daughter, Taylor born in 1996 and a son, Kyle born in 1999. Professionally Gina has a strong background in finance in addition to technical knowledge as system administrator to various data software and webmaster experience. She has a desire to utilize her abilities to provide assistance and support to the church in order to further build God's Kingdom. Gina has been worshiping and serving at Spencer Christian Church since 1998.
Bobby and his wife Margo were married in 1994 and have a blended family of 3 children; Kayla (Brandon), Kyle (Katie), and Samantha; and two grandchildren, Peyton (Kayla) and Harper (Kyle). Bobby has been a member of Spencer Christian Since 2002. He came to Spencer Christian as Facility Manager in January 2018 after a 40 years working in Payroll Accounting. Bobby loves football and the Kentucky Wildcats, Green Bay Packers and Lindsey Wilson Blue Raiders. Bobby believes his position is a testimony of what God can do in the life of believers and followers of Jesus. He believes this is a true ministry of Spencer Christian Church and blessed to be part of the staff.
Brian and his wife Stefanie have been married since 2010 and they have two wonderful boys. Brian began with a career in law enforcement but after becoming a believer, felt a call to worship ministry and left to attend Boyce Bible college for a dual major in Music and Biblical and Theological Studies. He is passionate about leading people in worship and growing God's kingdom. When Brian is not serving at the church, you can find him spending time with his family and enjoying his hobby of working on guitars.